Hello Friends,
When the lockdown began to emerge in Uganda, before the first Covid-19 case was even confirmed, we didn't realize that it would eventually shut down most of our programs. The children's home is still fully functional with some limitations, but the schools and all other programs are on hold.  With each restriction introduced, our hearts became burdened as to how our neighbors would survive rising prices, scarcity of goods and extremely limited transportation.  Our village of Buwundo was the first on our minds.
GSF pulled money from the budget and several staff members made personal contributions to supply food to 250 families in Buwundo and our village scholarship families.  We were asked at that time to serve more communities, but we didn't know how to accomplish that task.
Unsolicited funding began to arrive which pressed us into Phase 2:  nearby Buvunya village with nearly 500 households. Donations added to the gifts on hand and the task was carried out.  Take a look at what has been accomplished through GSF during the Uganda lockdown: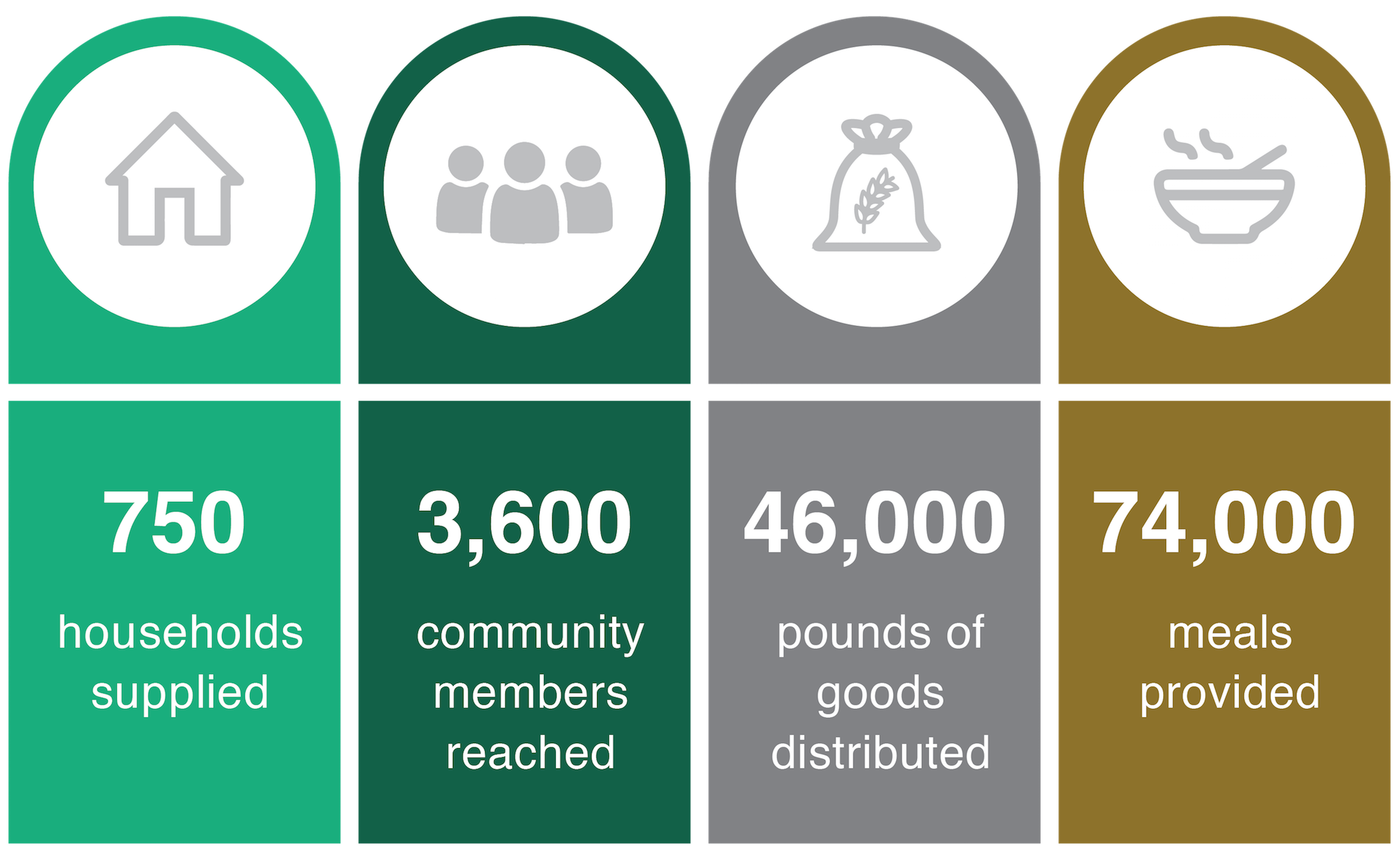 While those numbers astound me, I have personally taken part in the distribution in the villages and there are real people with hearts of gratitude behind all those numbers.  The calls have been increasing as the weeks go on: "We are hungry!"
Jesus fed people, sometimes 5,000+ in a single meal!  GSF provides food relief for vulnerable people on a regular basis but not on such a huge scale. That's why we look across the slope to our two nearest villages with apprehension. Kikube and Kizigo are actually our closest connections with many staff members and students living there.  We know more people in these two villages.  It would be impossible to serve one without the other.  Together there are 800 households – more than we have served in the first two distributions combined!  It would take nearly $12,000 to reach these two villages, but they are hungry.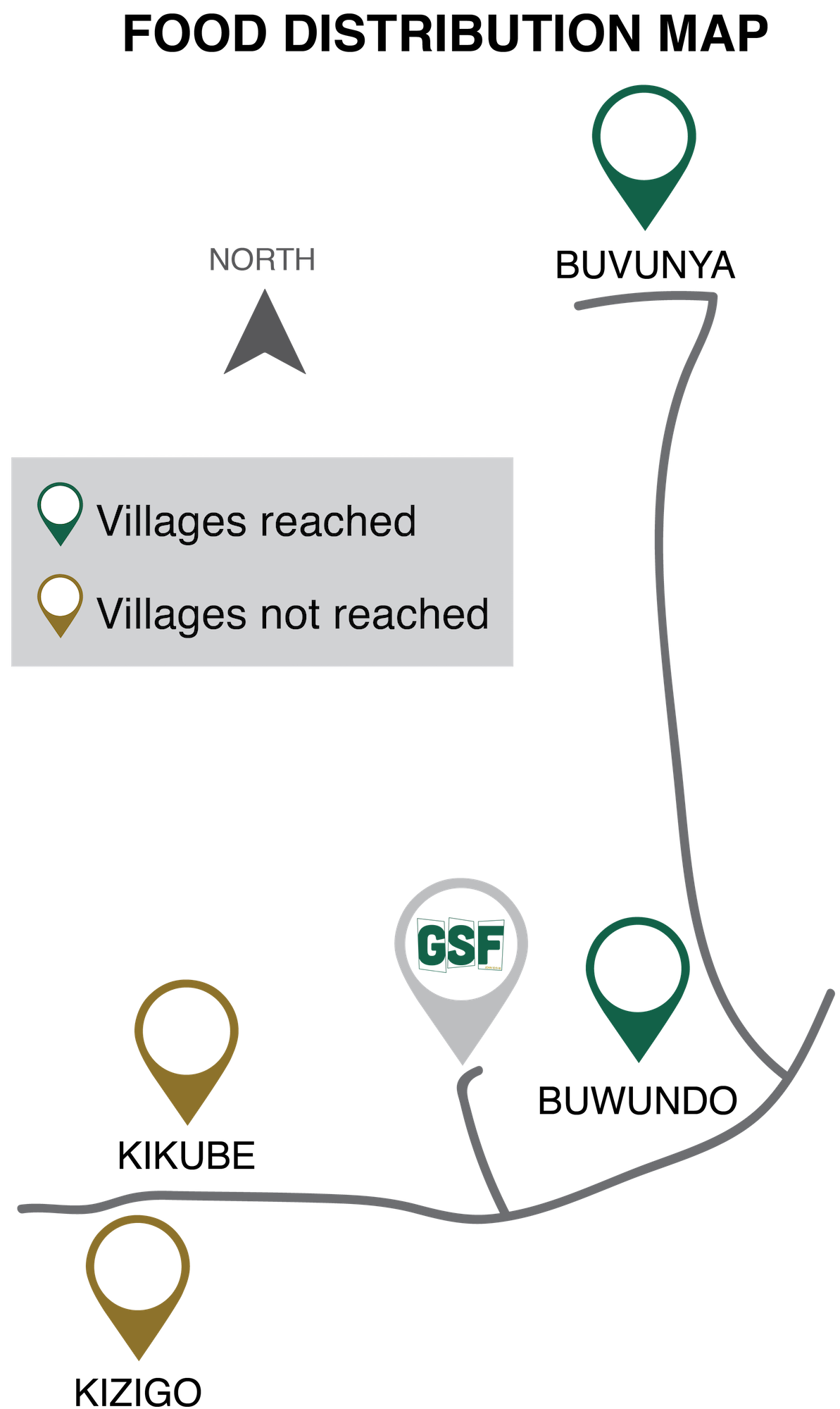 So we prayed to the God of Heaven, "Shall we go up to Kikube and Kizigo?"
Shortly after praying those exact words, I received a call about a "significant donation" for more food distribution.  It was another missionary here in Uganda. Then I checked our donor accounts and found that money was still coming in from the previous appeal. Then other donations came before we posted about the need.  We now have over $8,000 on hand and only need $3,400 more to serve these two villages:  800 families… 4,000 people…  64,000 meals!
The supplies have already been ordered.  When the Lord says go then we need to go!  And if He says go farther then we will keep going.  Souls are hungry.  The love of Christ compels us. Every food package includes a letter and Bible verses of hope from the GSF staff.
With your help, we can reach more! The average cost of a meal is only 20 cents; every dollar supplies 5 meals for a family in need. Partner with us during the COVID-19 crisis! Please indicate "GSF food distribution" in the "instructions to the finance office." This link is a lifeline for hungry souls: https://globaloutreach.org/giving/project-details/good-shepherds-fold-gsf-main-account 
Like Jesus, GSF normally works with individual people. One by one, we see transformation. Discipleship rarely happens en masse. But when the masses are hungry, as they were on that hillside with Jesus, we cannot overlook that need on the hillside opposite GSF. Remember, every dollar supplies 5 meals to a family in need. I believe that greater things will come as a result. Will you join us?
Thank you for your love and prayers for Uganda,
Mark Gwartney
GSF Team Leader
The need for $3,400 is relatively small compared to our mid-year fund-raising goal for GSF operations.  Exceeding the goal will enable us to reach other villages, fund ongoing feeding programs and continue paying our staff. With the announcement this week of a two-week lockdown extension here in Uganda, we don't yet know when these hardships will ease.  Your gifts enable GSF to serve the most vulnerable… in the Covid-19 crisis and all year through.  Thank you!