Thank you for your outpouring of support to equip the farming families in our community as they recover from another COVID-19 lockdown.
Your quick response enabled us to reach 623 subsistence farmers with 11,000 pounds of seeds before the rainy season began.
We are praising God for His provision!
The seeds were critical, but we yearned to offer the community hope beyond a promising crop. So, as we delivered the seeds, we shared the good news of Jesus Christ. Like the parable of the sower found in the Gospel of Luke, we knew God could use the corn and bean seeds to plant a greater, eternal seed of salvation in the hearts of our community.
We serve a faithful God.
He used the sowing of the gospel to open the hearts of 25 farmers as they experienced the mercy and grace of God through saving faith in Jesus.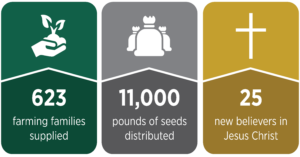 Would you join us in praying that both the physical and spiritual seeds planted would grow and yield a hundredfold?